"The decisions we make, individually and personally, become the fabric of our lives. That fabric will be beautiful or ugly according to the threads of which it is woven." ~Gordon B. Hinckley
There is a true story about a man named Joseph Henry. I read it once, can't remember where, but jotted notes down in my journal to use later. It's a rather strange story about his childhood. His grandmother paid a cobbler to make him a pair of shoes. The cobbler measured his feet and told Joseph that he could choose between two styles: a rounded toe or a square toe. Little Joseph could not decide which one he liked better. It seemed to be such a huge decision to him because they would be his only pair of shoes for a long time. The cobbler allowed him to take a couple of days to make up his mind. Day after day, Joseph went into the shop … sometimes three or four time a day! Each time he looked over the cobbler's shoes and tried to decide. He continued to procrastinate. He wanted to make up his mind, but he just couldn't decide. Finally, one day he went into the shop and the cobbler handed him a parcel wrapped in brown paper. His new shoes! He raced home. He tore off the wrapping and found a beautiful pair of leather shoes … one with a rounded toe and the other with a square tow!
We are all made up from the choices we make! Joseph Henry learned a difficult lesson about decisions: If we don't make them ourselves, others will make them for us. A wise man named Quentin Cook said that "many choices are not inherently evil, but if they absorb all of our time and keep us from the best choices, then they become insidious." Either of Joseph Henry's choices would not have been wrong … but the fact that he couldn't make up his mind and letting someone else decide was wrong. The choices you make and the decisions you make have a long lasting impact on your life. They make you special and different from others, they make a distinction between you and everyone else.
Here's another short story on choosing whether to decide or give up. Its a kid's fable and I'm not sure where it came from, but I love the moral of the story. One hot day, a thirsty crow flew all over the fields looking for water. For a long time, he could not find any. He began feeling very weak, and almost lost all hope. Suddenly, he saw a water jug sitting below the tree. He flew straight down to see if there was any water inside. Yes, he could see some water inside the jug! The crow tried to push his head into the jug. Sadly, he found that the neck of the jug was too narrow. Then he tried to push the jug over to tilt for the water to flow out, but the jug was too heavy. The crow thought hard for a while. Then, looking around it, he saw some pebbles. Suddenly he had a good idea. He started picking up the pebbles one by one, dropping each one into the jug. As more and more pebbles filled the jug, the water level kept rising. Soon it was high enough for the crow to drink. His plan had worked because he did not give up!
If we think and work hard enough, we can find solutions to any situation or problem that we might be facing. The crow didn't give up on his problem and neither should we. He pondered it and came up with a plan, and then carried that plan out. Your life is a series of choices you have made so far. You will live with those choices for the rest of your life — and believe me when I say this, the rest of your life can be a pretty long period. Whether you feel it immediately or not, your life is being shaped by the choices you are making right now … today and tomorrow. We can't undo the past, but we can always learn from it. Our choices are the building blocks of our lives and despite all the mistakes we make, a new day brings with itself new opportunities and a whole new world of choices.
We all have goals and dreams. I probably have way too many! We all want something we don't currently have. If we want to achieve our goals, we need to grab our lives by the horns and make the tough decisions to get what we want. These decisions and choices will allow us to achieve our goals.
Next time you have to make a decision … no matter how big or small it is, make a choice. Let me shout that again … MAKE A CHOICE! Choose the option that puts you one step closer to achieving your dreams and the future you want to build. Quoting Stephen Covey from his book "Seven Habits of Highly Effective People": "We are the creative force of our life, and through our own decisions rather than our conditions, if we carefully learn to do certain things, we can accomplish those goals."
I have had to make some really big decisions in my own lifetime. I am sorry to say that many of my choices were not too smart. I am happy to say that when I used the right powers for help in my decisions, I always made the right choice. Study … prayer … then decide. My hubby Ken used to tell me that in making important choices and decisions to use that method. To study it out, to pray about your decision and then decide to do it. He would say that if the decision was right I would know it in my heart … I would feel peace. If I kept doubting my decision, then I would know that I had made the wrong decision and to back up and start again. This has always worked for me. I always followed his three steps and if my heart kept debating, then I began my decision making again. This important lesson and wisdom sure kept me from making some really stupid choices and bad decisions!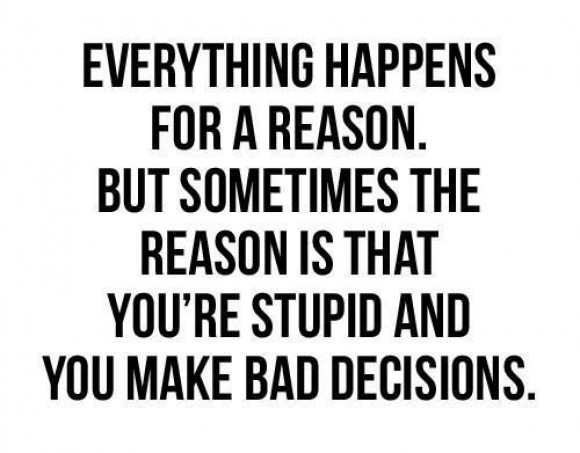 For instances, some of my decisions were: Getting married and having children … That was an easy one. Working mom or stay at home mom … a harder choice because of finances but staying home was the right decision. Moving Ken's business from downtown to our backyard building … also a tough decision knowing clients would be coming to our home … but a right financial decision to move to our own building. Going to work after Ken passed away … Opps, the kids made that decision for me and made me go to work. Actually it was the best decision for my health and emotional well being. Thanks kids. My decision between being treated for cancer in Tarboro or Duke Cancer Center … I chose Duke because of the aggressive cancer type I had and their world class doctors. Proof of the right decision … I defied the odds and am still here going on 8 years after diagnosis. These are some of the choices I have had to made. I'm not going to list all the wrong decisions because I don't want you to laugh at all my dumb choices. I do want you to see that by making your own choices you can effect your life for the good. You just need to figure out what's best and then do it. Isn't that what Nike says … Just Do It! … great advice.
I love this quote by Thomas S. Monson: "It has been said by one, years ago, that history turns on small hinges, and so do people's lives. Our lives will depend upon the decisions which we make – for decisions determine our destiny." WOW … yes our choices do determine our destiny … strong thoughts!
Now for one of my favorite stories. Its Aesop Fable, "The Man, the Boy, and the Donkey." A father and were to journey to the city marketplace and sell a donkey for winter provisions. As they started to town, the father rode the donkey. In the first village, the villagers said, "What an inconsiderate man, riding the donkey and making his son walk!" So the father got off the donkey and let his son ride. In the next town, the people whispered, "What an inconsiderate boy, riding the donkey and making his father walk!"
In frustration, the father climbed on the donkey; and father and son rode the donkey, only to have the people in the next town declare, "How inconsiderate of the man and the boy to overload their beast of burden and treat him in such an inhumane manner!" In compliance with the dissident voices and mocking fingers, the father and son both got off the donkey to relieve the animal's burden, only to have the next group of onlookers say, "Can you imagine a man and a boy being so stupid as to not even use their beast of burden for what it was created!"
Then, in anger and total desperation, having tried to please all those who offered advice, the father and son both rode the donkey until it collapsed. The donkey had to be carried to the marketplace and could not be sold. The people in the marketplace scoffed, "Who wants a worthless donkey that can't even walk into the city!"
The father and son had failed in their goal of selling the donkey and had no money to buy the winter provisions they needed in order to survive. Think about it for a moment … how much different the outcome would have been if the father and son had had a plan to follow and then made to choice to follow that plan. The choice would have been so easy.
At times, making the right choices can be simple. At other times, it is truly a big struggle. But through it all, you can find comfort in knowing that you can summon support and comfort from a loving Heavenly Father to help you in making your decisions. He is intimately concerned with your welfare, and He seeks to give you blessings overflowing with guidance to make the right choices.
Just do it! Just saying …