"Having influence is not about elevating self, but about lifting others!"  ~Sheri Dew
In our lives, we meet new and interesting people every day … of course not lately with this "Stay at Home" order. I believe, there are certain people who make an impact on us, affecting us for the rest of our lives. Every one of you has by now encountered at least one person who has impacted your life.  This would be someone who is outside of your family who made a difference.  I have a specific person who made a difference in my life along time ago when I was going through a very difficult time.  As a nineteen year old, a gentleman from my church, who lived about an hour away, was there for me when I had left home for a few months.  Knowing that I was extremely lonely and emotionally suffering, he visited me weekly to let me know that I was a "Child of God" with so much potential.  He built me up in so many ways, not because of any church assignment he had, but because he cared about people around him.  He moved from North Carolina many years ago and I never got to tell him thank you … but he changed my life.  I can look at my children and grandchildren and can name a coach or mentor that had a major impact on who they became.  My son Paul's swim coach, John Richards, was not only a coach but a friend and mentor.  My granddaughter Katie's soccer coach, Coach Leshaun Jenkins, was also a mentor and friend … teaching her about life off the soccer field.
Of all the characters that I've "met" through books and movies, one character always stands out as someone that I want to be like. That is Atticus Finch from "To Kill a Mockingbird" … one of my very favorite books! He was just an ordinary man from a very small town, like mine, who had a positive effect on those around them. I cry every time I read or watch the minister in the balcony say "Stand up Scout … Mr. Finch is passing."   Everyone should want to be like Atticus!  He is a symbol of what is good, honest, and wise. When the story of our town is written, wouldn't it be great if each of us were included as someone who symbolized those things? I'm quite sure if the story included Atticus' childhood, it would read that he probably emulated someone who had been an influence in his life. It is simply amazing how everything around us shapes and carves our character. One person can make a huge difference in your life whereas ten people altogether might never change you.
This photo is from one of the times I have tried to "be the one" … to help my community.  At Thanksgiving my family and I work the first half of the day at our local Community Homeless Outreach Shelter.  It is one of my most cherished times during the year … serving meals to others.  I do this to not only serve, but to Honor Sister Mary Anne, an example to our community on helping others. So, what's my point today.  Nobel Peace Prize winner Albert Schweitzer once said, "Example is not the main thing in influencing others… It is the only thing." People look at what you do, more than listen to what you say. To be a positive influence, you must live the life you'd like to see others live.   Bottom line … You never know who you are influencing for good!  I bet each of you are someone's shining example and influence right now!  I had a shining example to follow … my good friend Kathy Munday, who fought cancer for 13 years, after being given 6 months to live. She never gave up … and lived a full life of service while extremely ill and not feeling well. I never got to tell her that she became my shining example. She passed away several years before I was diagnosed with cancer. I followed her example and continue today. Whether we know it or not, we are all making a difference.  But during this specific time in our lives right now, being ordered to shelter at home, how can we make a difference?
In his book, "How to Win Friends and Influence People," Andrew Carnegie notes that one of the most powerful ways to influence another person is to make them feel important, and show that you care. During the last year, my church began what we call a ministering program.  Each member began to do as the Savior did in ministering to all.   Ministering is Christlike caring for others and helping meet their spiritual and temporal needs.  We are  the Savior's other "good Samaritans" on earth.  Even though we are in our own homes, we can still reach out to others and check on our friends.  During the last week I have enjoyed calling friends and asking how their toilet paper supply is holding up.  It's a good way to start a conversation.  A call can really cheer someone up that is at home dealing with all sorts of new problems.  You don't even have to call … send them a special message on your computer.  We all need each other to get us through this horrible pandemic that is taking its toil on so many.  We don't have to be sick with the corona-virus because it is affecting all parts of our lives … work … food … protective gear … and yes, even toilet paper!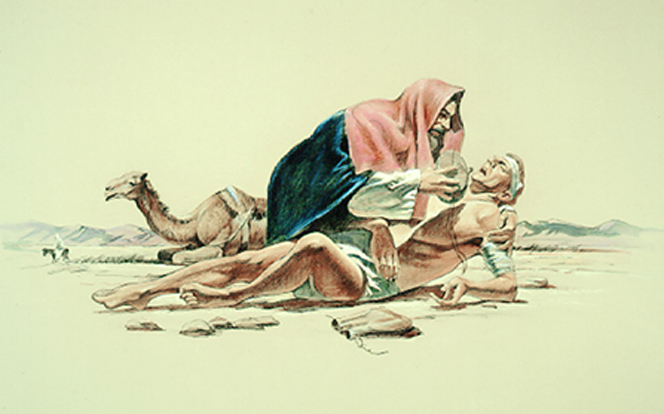 So, my challenge to you this week is: Pay attention to those around you.  Deliver sincere messages  of cheer to others who need encouraging words. By focusing on this, you are sure to bring out the best in those around you, including yourself! Now more than ever the world really needs caring, positive influences to make it a better place for each of us to live … to make each day brighter.  This "stay at home" directive is really hard on seniors … they miss their families. It's hard on caregivers … having to be home without help 24/7. It's hard on parents having to occupy their children's mind and energy all day … and provide education too. It's hard on families having to live without steady income … stuck at home not knowing where to look for help. Be someone that makes a positive difference! Call, email, write notes … listen to their words and tones. Let's not just settle on spreading light … let's be the mirror that reflects it too! Be the one!
Just Saying …