Yesterday was my birthday … September 2 … I'm 74 years old. What an amazing life I have experienced. I began my life with Plan One … everything awesome and happy. Now I'm on Plan Six … and still everything is awesome and happy. Why? The only difference between a good life and a bad life is your attitude. The choice is always yours. One thing I do know is that I'm truly blessed and thankful for the time I have been given to enjoy a full life.
The Hispano-Roman Philosopher Seneca once wrote: "It is not that we have a short time to live, but that we waste a lot of it. Life is long enough, and a sufficiently generous amount has been given to us for the highest achievements if it were all well invested. But when it is wasted in heedless luxury and spent on no good activity, we are forced at last by death's final constraint to realize that it has passed away before we knew it was passing. So it is: we are not given a short life but we make it short, and we are not ill-supplied but wasteful of it… Life is long if you know how to use it."
WOW … What a profound statement. The more I read it, the more I am inspired by it.
The phrases that stick out the most to me are: "It is not that we have a short time to live… but that we waste a lot of it…" "Life is long enough for the highest achievements if it were all well invested…" "It is wasted in heedless luxury and spent on no good activity…" "We are not given a short life but we make it short, and we are not ill-supplied but wasteful of it…"
I believe that we have a loving Heavenly Father who designed each of us to achieve great things. We are each unique in who we are, our abilities, and our talents. There is also no one else on earth that can live our life and accomplish the good that we can. You are enough! That's important … do not forget it. You are designed to bring some good into this world. And there are people in your life that you can serve and love better than anyone else.
It is up to us to decide every day to focus all of our energy on important things with the one life we have been given. We must let go of all the inessential things in our lives and remove the distractions. This is not an easy task living in today's world.
Your life is too short to be offended all the time. Your life is too short to compare it to others. Your life is too short to not believe in yourself. Your life is too short to not forgive. Your life is too short to regret the past. Your life is too short to live in fear. Your life is too short to be unhappy. Your life is too short to waste time on trivial matters.
I love this quote by Alan Watts: "Waking up to who you are requires letting go of who you imagine yourself to be."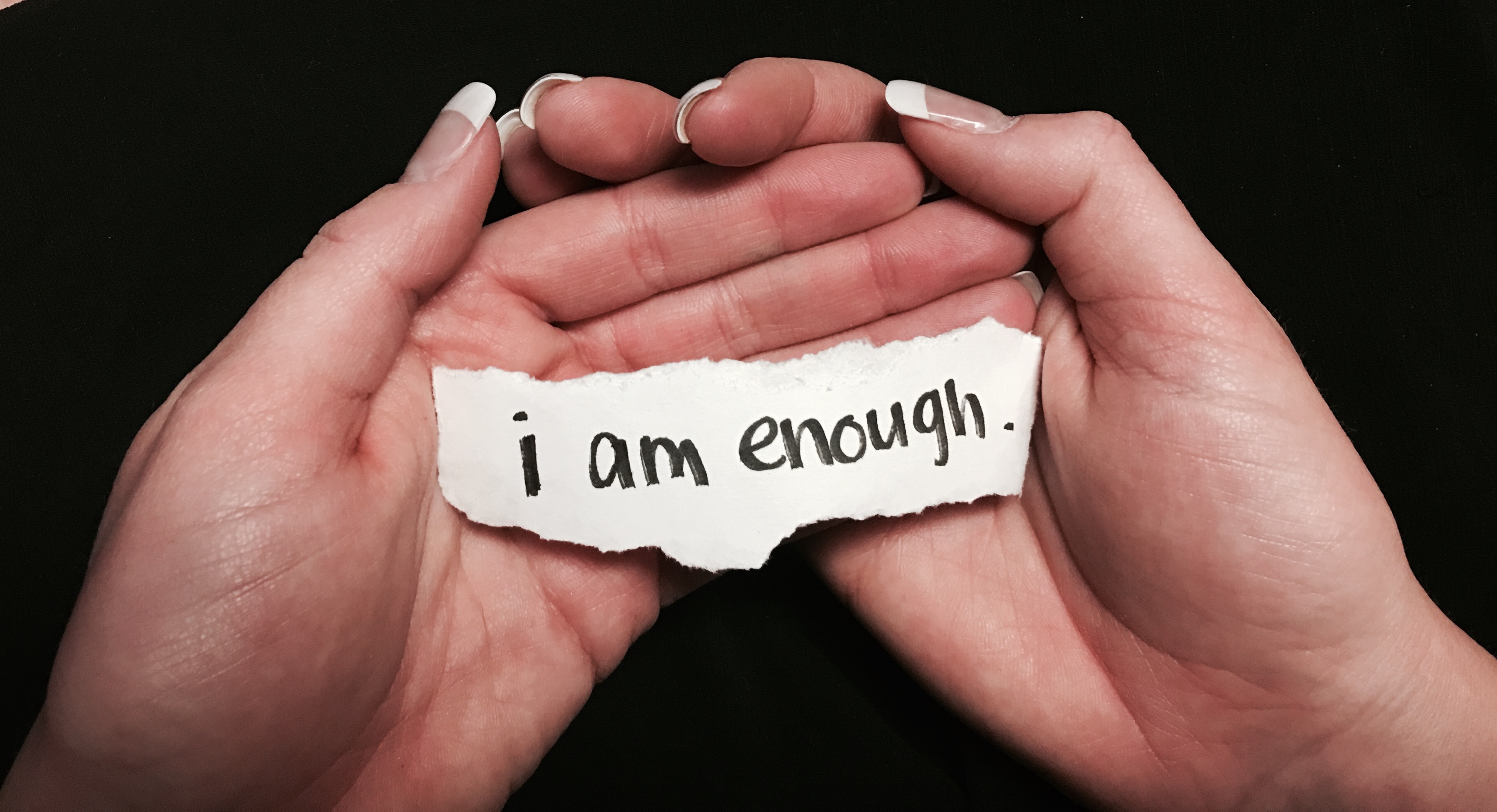 I don't think Mr. Watts was referring to waking up from physical sleep … I believe he is talking about accepting who you are and accepting that it is enough … which leads to a happy life! I struggled with this many times throughout in my life … Am I Enough? I grew up with this "perfect idea" of who I should be (at least what my mother thought I should be)! Yes … that was my Plan One! You know those thoughts … the perfect daughter, the perfect wife, the perfect mother, the perfect homemaker, the perfect church member … and the list goes on and on in my head. In reality too many of us have those feelings of inadequacy and self-doubt. We get discouraged with the things that we haven't accomplished in life, the lack of education, the family members we feel that we let down, or the situations that we find ourselves in. We all have this "perfect idea" of who we ought to be.
Why do we treat ourselves so terrible and relentlessly by comparing our life to other people … no matter how many times someone tells us how good enough or lovable we are? I don't know about you, but I continue to look for evidence that I am not a nobody, or that I'm living up to my full potential. I'm sure these feeling come from the pressure our society puts on each of us to "stack up to others."
We tend to think that our lives would be better if we had done things differently along the way. I love the quote from the movie "Clouds of Sils Maria" when the character Christopher Giles says: "We're not allowed to regret anything. If we're sincere in our actions, then we're the sum total of our experiences – no exceptions – and that is enough!" You see … changing the past would change who we are … not make us something better or happier … just different.
Changing our circumstances is not the key to true happiness … It's embracing who we are and knowing that we are enough that brings happiness. I remember a great quote from the movie "Jurassic World" … "The key to a happy life is to accept you are never actually in control." We aren't in control of the things that happen to us, or many times the circumstances that surround us … but we are in control of our attitude.
Recently I read a short internet article about the story of the "Tortoise and the Hare." It pointed out that living from one milestone to the next often leads us to miss the most important and enjoyable parts of our lives today. You know the story … the slow and steady tortoise won the race. But this article pointed out that we don't focus enough on what the tortoise actually gained from the race. The hare focused solely on his next destination point and he missed everything along the way. However the tortoise was able to enjoy his journey and everything around his adventure. Even if the hare had won, the tortoise still would have found joy in his race because he took his time and "stopped to smell the roses" so to speak!
I need to apply this lesson to my own life. I know that my biggest goal in this life is to live a worthy life and return to live with my Heavenly Father and with my family … but I also must have the goal of enjoying the life I have been given … here and now. I need to realize that "I Am Enough!" In Thomas Monson's book "Finding Joy in the Journey" he admonishes us to "relish life as we live it, find joy in the journey, and share our love with friends and family."
Oprah Winfrey said it better than I could ever say it: "If you concentrate on what you don't have, you will never, ever have enough."
So if we're in this "I'm not enough" rut, how can we dig ourselves out? How can we live our lives and be more present to ourselves? How can we realize that we are enough? I've developed a short list that I try to follow, and it just may help you too:
Be thankful for all you have and are. Gratitude is powerful because it helps us recognize all the good things around instead of dwelling on all the good things we think we need to be happy.
Read inspiring spiritual messages and blogs. I have several blogs that I follow that uplift me and put me in a thankful state of mind. Sometimes it takes someone else's words to help you see what you actually have to be thankful for.
Remember that there is more right with you than wrong with you. This powerful reminder is inspired by one of my favorite quotes from Jon Kabat-Zinn: "Until you stop breathing, there's more right with you than wrong with you." Remind yourself that you are alive and breathing and able to walk new paths whenever you choose.
Enjoy the present! Being present means noticing the thousands of things around us that make life interesting. It also means making time for fun.
Most importantly, enjoy the person you are right now, exactly as you are!
As Seneca said: "Life is long if you know how to use it." … and a key to using it is to realize you are enough! … Who you are right now, flaws and all! Not only are you enough, your Heavenly Father loves you exactly as you are. No conditions. No boundaries. Unconditionally! Our Heavenly Father has a plan for all of us … and we will never be who He wants us to be if we are constantly trying to become what others want us to be!
Yes … I am enough … and so are you!
Just Saying …